The NTD X100 range of RF boxes have been specifically designed for customers who require a high level of shielding attenuation and reproducible and repeatable test results.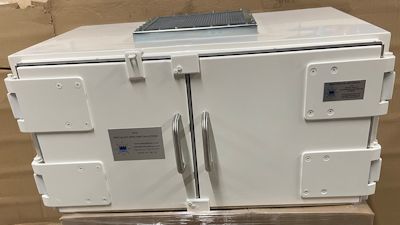 The X100 range has unprecedented shielding performance with Shielding-attenuation of + 100dB. @ 40GHz which eliminates outside signal interference thus isolating the device under test.
The NTD X100 range is the ideal solution for testing all manner of wireless networks, beam forming and devices in a development, R and D, production and/or quality assurance environment as well as forensics in cases where the current state of an electronic device needs to be frozen by blocking all wireless contact with the outside world.
The NTD X100 range has been designed so it can be placed on desks or workbenches or made mobile by way of castor wheels which makes it an ideal solution for lab environments.
(click on images to enlarge)
The X100 range is versatile and adaptable and can be customized to any customer specific size requirements.
To maintain the very high level of shielding of the X100 range all apertures and incoming power and communications must be upgraded as below.
40GHz Honeycomb vents.
40GHz Power line filters.
40GHz Shielding system.
40GHz RF Door.
USB, HDMI, LAN, D sub all over fibre (media converters).
High performance penetration panel and connectors.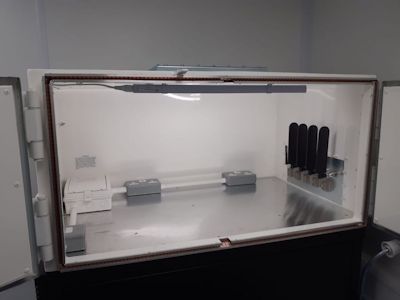 Each X100 RF box comes with a high-performance Interface/Penetration panel and a 6-way 3 pair high performance fibre optic pipe to support all media conversions as listed above. The Interface/Penetration panel is designed to customer specific Shielding-spec requirements and can be populated with 2.92, BNC, SMA, N connectors and others as required.
Each RF Box can be manufactured with RF accessories including:
Ceiling or Side Mounted Exhaust Cooling Fans utilised to provide ventilation and cooling without degrading RF Shielding Effectiveness of the enclosure.
High performance Microwave or RF Absorber for small Antenna testing providing a completely refection free environment.
Additional RF Removable interface/ Connector Panels for different test set ups as required.
Low interference/interference free LED Lighting.
AC/DC single and 3 phase high and low power outlets.
VESA fire detection systems.
Internal Shelves/ small workbenches.
All manner of specialist RF Pipe Penetrations.
High performance RF Power, Signal, Telephone, and Data Filters.
Antenna stands.
Test calibration stands, etc.
Locking castor wheels.
The NTD X100 range can support testing of the below wireless networks:
sp5G/LTE/Base Stations, Wi-Fi, Bluetooth, ZigBee, WiMAX, e e802.11a, b, g, Wireless LAN, Wi-Fi, WiMAX, Cellular, PCS, GPS, GSM 3G, 4G, 5G, RFID, Zigbee, Bluetooth®, Blade Servers, Cards, WAP's, Card Bus, Mini PCI N devices, IOT and LTE.